Global Protective Case Manufacturer CP Cases Chooses Delaware for Relocation, Growth of U.S. Operations
WILMINGTON, Del.  – CP Cases Inc., which designs and manufactures high-performance protective cases and racks used to support industries ranging from broadcasting to defense, has chosen Frankford, Delaware, as the new site for its U.S. operations.
CP Cases USA, which was opened in 2013 by the owner of a similar company in the United Kingdom, will move from an 8,000-square-foot site in Bishopville, Maryland, to a 25,000-square-foot site in Frankford Business Park, which is located along Route 113. The company will bring nine current employees to the Sussex County location and plans to create 16 new jobs there over the next three years.
Delaware Ideal for High-Performance Protective Cases and Racks Manufacturer
"Delaware provides a great environment for small businesses, and we are glad that CP Cases chose to relocate their manufacturing facility to Frankford," said Governor John Carney. "This investment shows that Delaware remains a leader in innovative manufacturing techniques. We are excited for CP Cases' expansion, bringing new jobs to Sussex County."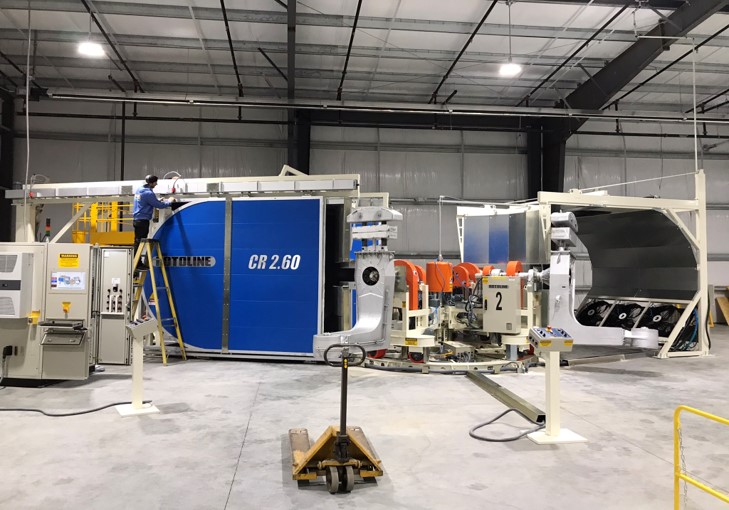 CP Cases had been searching for additional industrial space to serve its growing customer base, which is found in business sectors such as broadcasting and media; entertainment and live events; energy and marine; medical; and security and defense. Within the entertainment industry, the company's customers have included musical acts such as the Rolling Stones, Elton John, Led Zeppelin, Queen, and Pink Floyd. Products include rack-mount transit cases, air-conditioned transit cases, Lightweight AirShip containers, camera rain covers, and rugged textile and flexible material products along with customizable industry solutions.
The new Delaware location will allow better utilization of the roto-molding process CP Cases uses to form its molded case and rack products. Natural gas is the most efficient fuel for this process, and Martin Property Development's decision to bring natural gas to Frankford Business Park and its tenants was key to CP Cases' decision to locate there. The new gas line – which was supported by a portion of the $1 million Site Readiness Fund grant that Martin Property Development received from the State of Delaware earlier this year – also benefits the Town of Frankford and local residents, as does the central water service Frankford Business Park is supplying them.
Such developments were made possible by cooperation among the developer, local utility companies, and Sussex County. Delaware Prosperity Partnership began assisting CP Cases with its site search after being connected with the company by Sussex County Economic Development Director William Pfaff.
"We think of economic development in terms of building a championship sports team: we're always scouting for that next great player," Pfaff said. "That's what CP Cases is for Sussex County, another great player that we've been fortunate enough to pick up by drawing them to Delaware. Welcome to the team!"
CP Cases officials presented to Delaware's Council on Development Finance an application for a Jobs Performance Grant of $161,610 and a Capital Expenditure Grant of $28,500 from the Delaware Strategic Fund to support the company's investment. Distribution of grants from the Delaware Strategic Fund are dependent on the company meeting commitments as outlined to the CDF, which reviewed and approved CP Cases's request for up to $190,110 in total grant funding.
"CP Cases is so excited to become a part of the community of Sussex County, Delaware, and appreciate the support we've received from Delaware and Sussex County to expand our operations," said Peter Gill, CP Cases Inc. general manager. "We look forward to offering high-quality manufacturing jobs in the community and continue building stable long-term operations in Delaware."
###
About Delaware Prosperity Partnership
Delaware Prosperity Partnership (choosedelaware.com) leads Delaware's economic development efforts to attract, grow and retain businesses; to build a stronger entrepreneurial and innovation ecosystem; and to support employers in place marketing Delaware to potential employees via livelovedelaware.com. The DPP team works with site selectors, executives and developers focused on where to locate or grow a business and helps with reviewing potential sites, cost-of-living analyses and funding opportunities, including available tax credits and incentives. DPP advances a culture of innovation in Delaware, working with innovators and startups to spotlight and celebrate successes and connect them with the resources they need to succeed. DPP and its partnerships throughout Delaware support and advance the missions of companies of all sizes and sectors.
About CP Cases
CP Cases designs and manufactures high-performance, protective cases and racks used for transport, operation and storage of essential equipment in commercial and military applications. Many of their products are accredited to MIL-STD-810, rated IP65 and carry NATO stock numbers. Among the first to market in 1970s with flight cases for the live music industry, CP Cases now offers the broadest range of protective, operational transit cases for defense and security, broadcast and media, medical and scientific, offshore and many other sectors. CP Cases has over 50 years of expertise in producing cases, 19-inch rack solutions and bags, as well as an unparalleled range of in-house skill and expertise with rotomolded plastic, aluminum, laminated plywood, HPP, textiles and CNC foam machining. An extensive selection of options includes climate control (compressor and thermoelectric air conditioning units), EMC shielding, fire resistance and anti-static capabilities. CP Cases' products are available in a wide range of standard sizes, and the company's design team can create a custom solution to meet (almost) any application a product requires.
Newsletter Sign Up
Stay Up To Date With Delaware