Nurturing Innovation:  UD Summer Founders Program Helps Students Build a Business
September 9, 2020 – 
Matthew Saponaro, the founder of A.I. Whoo, is a savvy CEO. In early 2020, his artificial intelligence company marketed its services to zoos, aquariums and other attractions. By using existing video footage, A.I. Whoo could ethically capture visitors' engagement level and provide data and insight to improve outcomes.
But with the advent of COVID-19 in spring 2019, most venues closed.
Instead of looking for money-making behaviors, the University of Delaware student focused on disease-spreading behaviors that might cost them money.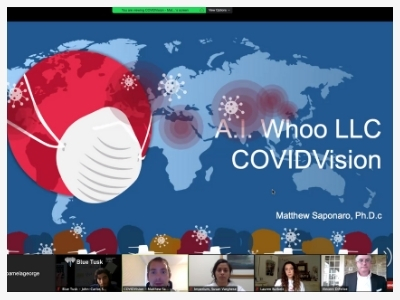 Enter COVIDVision, "a clear solution that moves on getting rid of COVID," he told an audience in a virtual conference.
Using artificial intelligence, his company can help quantify coronavirus-spreading behaviors, such as mask-wearing, social distancing and human traffic load, "so we can start reopening safely."
Saponaro wasn't pitching his idea on the ABC television show "Shark Tank." He was among the 18 teams in the Summers Founder program, a 12-week pre-accelerator for University of Delaware students with early stage startups.
The program, sponsored by the university's Horn Entrepreneurship, culminated with Demo Day.
Like the 2020 Summer Founder program itself, the event was virtual this year due to the coronavirus.
Nevertheless, this year's participants still reaped the program's rewards.
"Before Summer Founders, I was definitely a developer," said Saponaro, who recently received his doctorate. "But this turned me into an entrepreneur. What's the value proposition? Look for a problem, and build a solution."
It was the fifth year for the program, which provides weekly, individualized mentoring, meetings with advisors, classes and a stipend.
"Entrepreneurship, much like baseball, can't be taught by [just] sitting in a classroom," said Vince DiFelice, senior instructor of entrepreneurship and faculty director of venture support. "One has to do it. There are unwritten rules in baseball, and that's true in entrepreneurship. You learn from people who've done it before."
Participants must work full-time on the project; they can't have an internship or summer job. Course credit is available.
Typically, there are up to eight participating teams. But due to the pandemic, many UD students lost internships and summer jobs, leaving them with nowhere to go.
"We marshaled all of our resources with donations from a number of kind folks—who donated not only money but time and experience," DeFelice said. "We worked with over 20 teams and 30 students.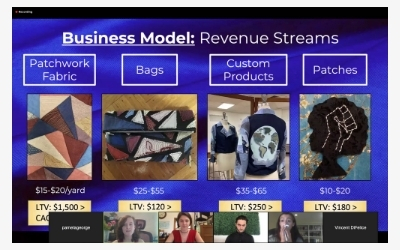 Even as a virtual program, Summer Founders was "intense," said Sierra RyanWallick, who with Michelle Yatvitskiy founded UP Cycle.
Their company takes post-consumer waste, such as clothes, and creates new products, including handbags. The goal is to prevent clothes and fabric from winding up in landfills.
"We want to hire marginalized community members to make these items," RyanWallick explained. "The main goal of UP Cycle is to raise awareness about sustainability and make an impact in as many areas as we can."
The women came into the program with a loose idea and "exited the program with new mentors, prototypes of our ideas, more than 100 customers interviews, a newsletter with more than 60 people on the list and a partnership with the New Castle County government," she said.
In between, they pitched to philanthropic investors, met with advisors, attended educational sessions, revised their business plan and worked on their presentation for Demo Day.
Presenting Tomorrow's Entrepreneurs
In the past, Demo Day took place at the Venture Development Center on campus. After the presentations, which occurred on stage, audience members could visit the companies' tables for further discussion.
This year, advisors, teams, mentors and other participants came together in a virtual setting.
The teams each had seven minutes to present their product or service to the Zoom audience.
"Their PowerPoint presentations were absolutely, positively fantastic," said Ajit George, a volunteer advisor and the founder of Second Chances Farm, an indoor hydroponic farm in Wilmington that employs returning citizens released from prison.
"I wish I had a Summers Founder program when I was at UD in 1972," said George, a serial entrepreneur. "The students now are smarter, brighter and have better technology. They got incredible advice from the whole program."
George worked with UP Cycle, and he used his contacts at Goodwill Industries of Delaware and Delaware County to help them secure clothing and fabric.
On Demo Day, UP Cycle received the Most Socially Responsible Award from the audience, who took a poll after the presentations. The Impact Potential Award went to COVIDVision.
Other honorees:
Most Creative Award: PrintAble, which seeks to provide assistive technology so that people with disabilities or an injury and do everyday tasks.
Most Promising Award: Oh-So Cycle, an indoor cycling studio that pivoted to offer at-home bike rentals and virtual classes.
Most Interesting Award: Backyard Gig, a two-sided marketplace that connects students with individuals or businesses seeking help with outdoor tasks.
Offers Unique Value Award: Alchemize Fightwear, an apparel company for women who compete in mixed martial arts.
Most Motivated Award: Female Food Foundry, which provides a supportive community for female founders of consumer-packaged food and beverage products.
"What we try to be at Horn is all-inclusive," DeFelice said. The student companies included services that had the potential to scale and create jobs as well as social ventures. There were students from a variety of colleges within the university system.
Boots on the Ground
Since its start, Summer Founders has launched 31 U.D. startups and raised more than 3.1 million in follow-up funding. But the program is not an accelerator, which offers investors an opportunity to provide funding.
"Some of the [companies] might launch," DeFelice said of the teams presenting on Demo Day. "Some of them might not. But they're here to be part of the community."
Maya Nazareth started Alchemize Fightwear when she was just a sophomore. In the past six months, she's brought the apparel company online with an image-heavy e-commerce platform.
Nazareth, who graduated with a degree in international business, plans to continue her company. Still, she's accepted a job with the CEO branding company that mentored her during the Summer Founders program.
She said that Delaware is an excellent place for student entrepreneurs. "The community is small enough that I can have access to such a rich network of people who are creating change in Delaware and around the world," she said. "I don't think I would have had the same opportunity to connect with this caliber of people if I were in a larger state. So, I think that's really special."
Richard Hayburn and Amanda Zicherman, the founders of PrintAble, would agree. "We were provided with many valuable resources, including advising sessions and referrals to professionals and potential business connections," said Hayburn, who graduated in spring with a degree in mechanical engineering.
They are expanding their network while continuing to refine their business model. As for Saponaro, he believes that Delaware is open to the artificial intelligence sector.
"I think there's a huge opportunity for me, so I'm not leaving," he said. "This is a wonderful place to be. We're at the right time and the right place."
For information on Horn Entrepreneurship, visit udel.edu/research-innovation/horn/.