As the COVID-19 pandemic has swept throughout the United States, the entire business landscape has been disrupted. Delaware Prosperity Partnership, however, is continuing its work to attract, grow and retain companies, build a stronger entrepreneurial and innovation ecosystem and support private employers in identifying, recruiting and developing talent throughout Delaware. Part of DPP's work involves engaging with representatives from various sectors of the economic development arena to discuss how the crisis is affecting what they do and what the disruption means to Delaware.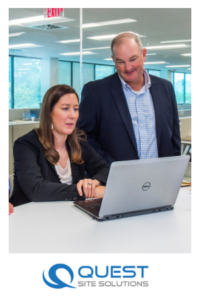 Lindsey Cannon has been a director/site selection consultant with Quest Site Solutions in Greenville, S.C., focusing on industrial manufacturing and distribution, since 2018. She previously worked in site selection with McCallum Sweeney, also in Greenville, S.C., for almost 10 years, and in various roles with the South Carolina Department of Commerce for more than two years.
Before participating in the statewide familiarization tour DPP hosted last year, Cannon had never been to Delaware. Among her takeaways? The fact that you literally can get anywhere in the world from Delaware – and what an asset such convenience is to businesses looking to locate and grow here.
Cannon recently spoke with DPP by telephone to provide her perspective on the COVID-19 crisis and what kind of pivots the pandemic is requiring of the business world.
DPP: Before participating in last year's Delaware Familiarization Tour, you had never been to Delaware. What struck you the most?
LC: One of the things that really stood out to me was how close you are to Philadelphia International Airport. That was eye-opening and probably the number one item that stood out to me. It really gives you an opportunity to really sell yourself as in, "Delaware may not have its own international airport, but the state doesn't have all of the expenses and liability that go with running an airport and you still get access to all of those 'big city' things." Even being in the southern part of Delaware, you're still very, very close to the international airport. From anywhere in Delaware, you can get to the international airport and get around the world.
DPP: This is America's first experience with a pandemic since 1918. From a site selector's perspective, what are you experiencing?
LC: For active projects, getting to a good stopping point in the process is what most clients are working toward – so there's still some activity there currently. For projects that are close to announcement, businesses are hitting the pause button. They still believe they're going to build the facility, but they don't want to announce it and then COVID-19 takes longer than projected and they have to reallocate resources in a different direction.
DPP: What are you seeing in manufacturing, the sector you specialize in?
LC: If you look at the heart of the crisis right now, it's tourism, retail and restaurants that have been hit the hardest. While manufacturing has certainly been impacted, it has not been hit as hard since many of those operations are considered essential. Depending on how long the COVID-19 pandemic continues, though, it could have a substantial impact on the manufacturing and distribution sectors because tourism, retail and restaurants aren't buying as they did in the past, so that's going to have an impact on companies.
DPP: What about the supply chain?
LC: I think all companies are going to reassess their supply chains. The pandemic has put a lot of stresses on a variety of industries, and I'm curious to see how supply chains evolve. Because as companies reassess, it may lead to some new opportunities.
DPP: What does the impact to the workforce look like going forward?
LC: Looking at real-time job-posting data, even through all of this, there is not currently a drop in job postings that I would have expected to see. There is definitely a big drop-off, but it's not as substantial as I expected. It's going to be interesting for people that have been laid off in these current times. Will they be picked up by "key essential businesses"? Some of those employees may end up working in, say, a manufacturing facility and have benefits they didn't have before. Some employers – I think it was Costco and a few others – have said, "Hey, we're giving all of our employees $2 more an hour during this time." But is that going to set a new precedent? Workers will have adjusted to living on more dollars an hour. So when this is over, will they go find a job where they continue to get that $2 more an hour? It's going to be extremely interesting to see the impact that has.
DPP: How are the effects of the COVID-19 crisis affecting your daily work?
LC: I'm still working on project work, but I also have been able to cross a few things off my to-do list. Some of them had been on my list for a year or two! I'm trying to personally take advantage of the current situation, because at some point the crisis is going to end. And I think companies are doing what I'm doing, saying, "OK, let's get everything in order that we can now so that when it's over, we're ready to proceed."