In the past, Delaware beach restaurants primarily served family-friendly fare. Think burgers and captain's platters (a fried or broiled seafood medley with a side of slaw). Those days are long gone. Today, the resorts boast so many offerings that the area is collectively known as the Culinary Coast. 
Credit chefs like Gyanendra "GG" Gupta, who with his partners brought Indian-inspired cuisine to downtown Lewes. 
Since opening in 2019, the restaurant has developed a loyal fan base. In part, that is because Indian cuisine had been missing from the healthy roster of area ethnic options, which include Thai, Mexican, Japanese and Chinese restaurants.
And then there is GG, the friendly face of the restaurant, who regularly makes the rounds in the dining room to greet guests and suggest dishes. He is soft-spoken and gracious. He also has an impressive resume: GG has worked in five-star hotels in his native India and in the Caribbean.
The Journey to Lewes
One of five children, GG grew up watching his mother prepare the family meal. "I was a mama's boy, you know, I love that," he says fondly. He was 8 when he began questioning her actions while she cooked. Why was she adding this? Why was she stirring that?
He began accompanying her to the market. "Not only did she pass me the cooking skills, but also the purchasing skills," he says. "Everything had to be fresh. When we were young, I don't think we had a refrigerator in the house."
GG's father wanted him to be a doctor, but the passion for cooking was too strong. After earning a bachelor's degree, he enrolled in a three-year hotel management program. 
The luxurious Taj Mahal Palace in Mumbai, a 650-room hotel, hired him as a management trainee, and for five years, he worked as a chef in the hotel. "I'm a real five-star hotel guy," says GG, who's opened numerous restaurants for high-end hotel groups. He worked at properties Trinidad, Tobago, Grenada and St. Lucia.
While in Grenada, he met Lewes native Vinay Hosmane, who was in medical school. (Hosmane's father, Ramachandra, began working at Beebe Hospital in 1978.) They became friends.
Back in India, GG rejoined Taj to open The Vivanta brand in Goa, a world-famous coastal resort. The area made an impression on GG and his family, who returned to Goa after working in Jaipur. 
GG and Hosmane, who became a cardiologist, kept in touch and visited each other. In 2015, GG was a guest chef at the MidAtlantic Wine + Food Festival, which held events throughout Delaware. 
While touring the state, Hosmane suggested opening a restaurant at the beach, and GG agreed.
Hosmane and some associates had been looking for an investment property in the resort community. Meanwhile, Hosmane's father knew investors interested in the hospitality industry. With GG's help, the two groups pooled their resources to create Raas, which means "celebration."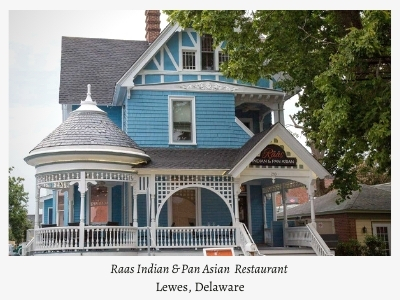 The location, a circa-1899 Queen Anne Victorian on Savannah Road, might seem an odd choice for an ethnic eatery. But Hosmane knew it well. As a child, he rode his bicycle past the house and admired the sweeping front porch and turret. Hosmane felt that it defined the coastal lifestyle. What's more, the classic architecture speaks to the British Raj that has influenced Indian cuisine.
Built by Capt. W. "Diver" Johnston and William H. Virden, the home is best known as a former residence of Mayor Otis Smith, who oversaw the menhaden fisheries in Lewes. (At one time, the small town was the leading producer of menhaden in the country.)
As a spa, the structure's exterior was a garish can't-miss purple paint. The new owners returned it to a soothing blue. Inside, there's a pop of saffron along with turquoise. White linens cover tables. The atmosphere is decidedly more upscale than an Indian restaurant in strip malls.
Between the massive renovations on Raas, the summer 2019 opening and the pandemic, GG has had little time to rest. When restaurant dining rooms were closed in spring, he forwarded takeout orders to his cell phone, so he did not miss a call. Once dining rooms reopened, he carved out more alfresco seating for the increasing number of people who want to eat outside. 
Lewes-area residents and visitors have embraced the flavors of India.
"They call me back to say they never had a dish before, and it was phenomenal," says GG, who appreciates the sense of civility and culture in the area. "People want us to be successful as much as we do." 
The network of support characterizes Delaware, he notes. If he's standing on the covered porch, it's not unusual for a driver to honk and call out: "Hey, Chef GG!" 
Many visitors are so pleased with the cuisine that they want him to replicate the concept. But while Indian food is "in my blood," he says, a second restaurant may showcase a different ethnic cuisine. After all, he's opened numerous Italian, Thai and other restaurants in hotels.
For now, he's satisfied with making his mark in downtown Lewes. Says GG, "If my guests are happy, then I can sleep at night."