When Martin Ruffert was looking for a U.S. headquarters for IO Projects, the German-born businessman received an invitation to visit Delaware. He toured the state and listened intently when state representatives said he would have direct access to legislators, an advantage that West Coast locations couldn't beat.
"I can see it's small. I can see it's nice, and you can do something for me – but come on," Ruffert recalls thinking.
Then he attended a cocktail party for a German company that was opening a Wilmington subsidiary. For most of the evening, Ruffert chatted with "a nice couple," he recalls. "He asked me so many questions about my business."
The next day, the same man greeted Ruffert by name at the ribbon-cutting ceremony. It was then-Delaware Governor Jack Markell.
"I had spent the whole evening with the governor," Ruffert says with some wonderment. "I still get goosebumps when I think about it. In Delaware, you are not a number. You're a face and a name, and people recognize you."
Choosing Delaware for IO Projects
Ruffert was convinced. He came to Delaware in 2017 to promote the digital sign business that is still IO Projects' core European offering. But a handful of U.S. companies already dominate that marketplace. So, Ruffert did what he does so well: He stayed comfortably in the middle. 
"We fill the gap," says the self-professed "nerd." Instead of reinventing the wheel, IO Projects transforms a wide-scale global application into a turnkey product at an affordable price. IO Projects is the customer's single point of contact," Ruffert says. The company handles the interface with other contractors or manufacturers.  

"When a customer has a specific need, we find the best scalable solution on the market that's a proven success and build the missing parts to create a perfect match for the customer," he explains. "The existing platform may have 70% or 80% of what the customer requires, but 20% is missing."
The approach is why Ruffert first dipped his toe into digital signage — Mercedes-Benz had a need. Today, his company operates 20,000 screens in Europe for Mercedes, a gas station chain and universities. 
In the United States, IO Projects provides digital screens to the new CSC Station, a coworking innovation hub space adjacent to the Wilmington train station on the Wilmington Riverfront. The building is owned and operated by Corporation Service Company, which offers a range of financial, legal and digital services. There are touchscreens at the entrance for visitor sign-in and digital displays that indicate whether or not a conference room is in use.
It didn't take long for Ruffert to realize that CSC Station needed more than adaptable signage. For instance, the building required controlled access, which was no easy feat considering that those using the coworking space have varying membership plans. Clients can reserve a desk, an office or event space and use a day pass or rent for a month. 
Ruffert and his team did their homework. They chose Openpath, a keyless door-access control system that runs on a smartphone. To enter, a user holds the phone near the reader. 
The program was particularly appealing because it doesn't rely on an internet connection. IO Projects engineered the system so that CSC Station can manage it in real time. It's easy to revoke user access when a contract ends. IO Projects also programmed the technology to work seamlessly with other management tools, so the administrator does not need to update each automated program's information. 
Given today's hybrid workplaces, such technologies will be in demand. People may only come into an office for a limited amount of time. Companies with locations worldwide can control employee access to a door, floor or the entire building.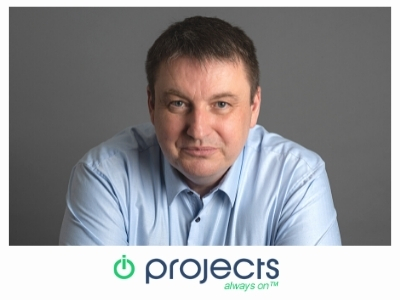 Ruffert is a CEO, but he can't stop coding, he acknowledges. Nor can he stop spotting new opportunities. "The challenge comes from when people say something is impossible to do," he says. "It's OK. We can find a way to do it."
He's excited about technology that can turn a TV into a FaceTime-like device, an asset for assisted-living facilities with residents who aren't tech-savvy.
He's equally enthusiastic about an operation that installs kiosks in public places for computer repair. Much like the old photo-development kiosks, people drop off their broken tablet or phone. Workers in low-income communities would be trained to do the repairs. 
Appreciating Life in Wilmington
Ruffert has lived outside Paris and Berlin, so he appreciates living in the Wilmington area, which is near so many urban areas. Before the pandemic, it was not unusual for Ruffert and his wife to go to New York City to see a play, have dinner and then drive home.
And as for being up close and personal with legislators, he has another story to tell. When his E-2 visa was held up in Frankfurt, Germany, he visited Delaware Senator Tom Carper's office.
"Three weeks later, I had an appointment in Frankfurt," he says. "That is the amazing thing about Delaware. I'm living proof that it's real."