With a legacy of innovation that dates back to the early 19th century, Delaware is a microcosm of global trends in the chemical industry, said Kurt Foreman, president and CEO of the Delaware Prosperity Partnership (DPP), which leads the state's economic development efforts.
Delaware is home to some of the world's largest and most respected chemical, biochemical, advanced materials and agriscience companies. As a result, it was an ideal setting for ChemTech Conference 2020, a two-day event on the Wilmington Riverfront. "We are positioned to be a leader in chemtech going forward," Foreman told the attendees.
Organized by the Delaware Sustainable Chemistry Alliance (DESCA) and sponsored in part by DPP, the conference attracted heavy hitters such as DuPont, Agilent and Siemens. However, the 130 registrants came from all over the United States.
Dr. Bryan Tracy, CEO of White Dog Labs and chairman of the DESCA board, set the tone in his opening remarks. "The chemical industry is no longer about making more plants," he said. "It's about selling more products in a precise fashion." Companies are looking to work faster and reduce the cost of innovation while influencing customer habits and better connecting with them through social media. And, of course, they are concerned about cybersecurity.
Artificial intelligence, the Internet of Things (IoT), advanced analytics, machine learning and blockchain are transforming the way companies do business. They are critical to the future of the chemical and bioscience industries, the conference speakers agreed.
From Baby Steps to Giant Leaps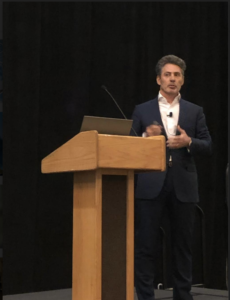 The chemical industry prioritized digitalization long after many industries, said keynote speaker Dr. Frank Jenner, global chemical industry leader for EY (Ernst & Young). That's changed, according to the survey "DigiChem SurvEY 2019."
The study, which involved interviews with 101 top management members and executives of medium- and large-sized businesses, found that many respondents are now focused on increasing efficiencies in the supply chain, reducing costs and improving customer interfaces. Consequently, about half have realized faster lead times, improved market and customer access, and overall cost reductions.
Nearly 50 percent of the cohort felt digitalization could improve data analysis the most, followed by automation and the improvement and integration of data management.
However, there is a considerable discrepancy between the expected digital revolution and the actual progress of implementation. "There is still a huge potential to improve beyond what many have done thus far in process automation," Jenner said.
To succeed, companies must get leadership's support — including the CEO — to create stable and secure digital solutions and digitalize across corporate functions. Not surprisingly, barriers include a lack of qualified staff, the technical infrastructure and security concerns.
Collaboration and Co-innovation
Jenner stressed the need for collaboration, and Anthony DiPrinzio agreed. DiPrinzio is the digital innovation manager and head of the blockchain lab for BASF, a Germany-based chemical company.
Collaboration isn't confined to employees. Open innovation means that multiple partners — such as government entities, suppliers and customers — can provide input to develop new products.
Blockchain technology can facilitate the process. The underlying technology behind the cryptocurrency Bitcoin, blockchain is a distributed — versus a central — database. Blockchains can facilitate data transfers between suppliers or even competitors.
"The really important thing is that blockchain is not controlled by any central agency,"DiPrinzio noted. "It's a method of storing data among multiple parties that ensures data integrity. Data that is committed to the blockchain can't be changed."
Each year, BASF runs an idea-thon that uses a blockchain system with videos and interactive modules to help users flesh out ideas and validate them. Some of the program committee members who review the submissions come from outside BASF.
"By engaging in open innovation, not only will you get expertise from external collaborators, but you can also find other markets," DiPrinzio said.
Attendees at the conference included companies that facilitate the digital transformation process. Anne Froble, sales director in the Microsoft Northeast Region, discussed how change often comes from customer demand or dissatisfaction.
Carlsberg Beer upped its need to deliver new flavors by digitizing the input of employees outside R&D. The company also put IoT sensors on lab equipment to create flavor-profile models that reflect the trends. Carlsberg used bots — software applications that run automated tasks over the internet — to enhance collaboration.
IoT sensors on espresso machines helped Starbucks track the maintenance issues that disrupted service. With trends in hand, Starbucks could schedule preventative maintenance.
Microsoft technology also lets companies create "digital twins." When Unilever wanted to improve consistency and quality, for instance, it made a digital replica of a manufacturing facility. Simulating a change produced virtual results. The technology can also help with disaster planning.
What about a human? Forbes showed a video of the vice president of marketing for Azure, Microsoft's cloud computing service, whose digital twin delivered a keynote address in perfect Japanese — although the vice president does not speak it.
The ChemTech Conference also featured workshops, roundtable discussions and networking. No matter the event, conversations often turned to the need for talent, cybersecurity, blockchain and collaboration.
"It crossed industry, regardless of whether you were in ag, bioscience or advanced manufacturing," said Dora Cheatham, executive director of DESCA. "The challenges are similar. We were excited about the level of the people who attended. They are digital transformation leaders."
Based on feedback, DESCA plans to conduct another ChemTech Conference 2021 next year.
For more information on DESCA, visit desustainablechem.org.