Allied Precision Inc. – The Sum of Its Parts
October 15, 2021 –
Keeping an Eye on Manufacturing Technology and Trends for 25 Years
John Lees never looked far for career inspiration. His father was a machinist, and when young Lees visited his dad's machine shop, he was awestruck. "I enjoyed what I saw, the smells and the interaction between the folks there," Lees recalls. "I thought, 'This is pretty cool.'"
Lees didn't waiver. Today, he is the owner of Allied Precision Inc. in Middletown, Delaware, which manufactures a wide variety of products, including complex, multipart, custom-engineered fabrications and assemblies.
Lees started Allied Precision in the basement of his home in 1995. Since then, the machining growth has been as steady as the craftsmanship that defines the company. At the same time, Lees stays on top of a rapidly changing sector.
Building a Machining Business in Delaware
Lees grew up in Newark, Delaware, where his father worked for Autotote Systems. At that time, the company made wagering systems primarily used at racetracks.
Delaware was — and is — home to Delaware Park, which offers live racing and now has a casino; Harrington Casino & Raceway; and Dover Downs Hotel & Casino, which features harness racing.
After graduating from Paul M. Hodgson Vocational Technical High School, Lees apprenticed at a high-end shop in New Castle. "That gave me a good base to build on as far as understanding the trade and knowing how to maneuver in it so I could eventually start my own company," he says.
Being an entrepreneur didn't daunt him. "I've always loved making things and doing what people say couldn't be done," Lees says.
He was equally sure about where he wanted to build his machining business. Delaware was not only home. It was also full of friends, family, colleagues — and connections. "I was fortunate to have a small group of mentors and journeymen to guide me through the years," he says.
He's found support in other ways, namely the Delaware Manufacturing Extension Partnership, a federally and state-funded non-profit organization committed to helping Delaware's manufacturers improve their global competitiveness. DEMEP is the official representative of the MEP National Network in Delaware, a public-private partnership.
"They really do a great job at assisting small- and medium-sized manufacturing firms," Lees says. "We have leaned on them in the past for our ISO certification and specific job training. They've been a valuable asset through the years. They allow us to compete in challenging yet rewarding sectors of the industry."
Improving & Expanding
In the early 2000s, Allied Precision had outgrown its original Newark location. Middletown offered affordable real estate, although the market there was exploding — which continues to be the case. The building can accommodate the growing number of computerized systems that have become part of 21st-century manufacturing.
"We managed to nail a piece of property, put up a 12,000-square-foot building and never looked back," Lees says.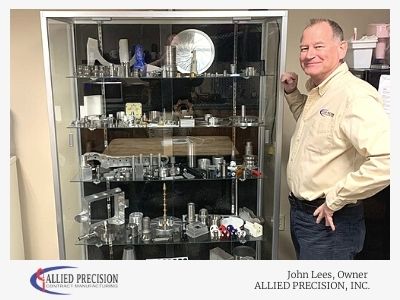 To be sure, when Lees started, the machinist was familiar with every stage of a part's creation. Now the raw product — from steel to copper to composites — enters a computerized machine and exits as a finished part.
These machines must be high-tech. Consequently, the required skills to work in the industry have changed.
"Workers have to know programming — there is a whole laundry list of requirements," he agrees. After 30 years in the machining business, Lees knows where to find the talent, and he spends time and effort recruiting the right people.
Lees also keeps his finger on the pulse of the trends. When Allied Precision first opened, it was making parts for automobile cruise control systems. "It was fairly high volume," he recalls. Now the medical and defense sectors are hot, he says. Other clients are in agriculture and the valve and pump industries.
At the start of the coronavirus pandemic, Allied Precision was hit with a wave of orders as companies hustled to move from a just-in-time approach to just-in-case. The workflow has since adjusted to pre-COVID demands.
The company currently has 15 employees working over two shifts to meet client demands. The machines run for six to seven days a week. "We are in our fourth location with plans for future expansion," he says.
For Lees, growth is essential.
"A smart fella once told me: 'An institution that has no wants has no future,'" he says. "We work hard to satisfy our growing customer base and will continue to grow this company as large as it can be."